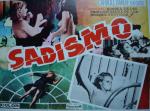 Orgasmo Mexican Lobby Card
Please read above: The Screening of Paranoia has been indefinitely postponed but there is VERY good news!!!!
Coming July 30th to the Angelika Film Center in Dallas, TX, Dallas Cinemania is providing an incredible opportunity to watch Umberto Lenzi's Orgasmo on the big screen. This isn't some blown up DVD image either but an actual film print! Be sure and check out their site for more information and if you're in the area you definitely have to clear your calendars for this one!!


More info on the film (and the common titling confusion) after the jump...