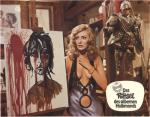 This 1972, text-book giallo opens with a pair of murders within the first few minutes. A killer is loose and, at first, the victims seem unrelated except for the half-moon pendant left at each crime scene. The police catch a break when a young girl is attacked by the killer but is saved at the last minute by her fiance. As the authorities run around in circles, the couple decides to investigate on their own under the auspices that the killer had succeeded. They eventually uncover the link between all the victims and race to save the next victims. Will they get there in time?
Umberto Lenzi directed this film early in his career, long before his infamous cannibal shockers such as Cannibal Ferox. All the elements are there including the black-gloved hands shot in point of view camera frame and a host of beautiful victims. German actress, Uschi Glass plays the main heroine and Antonio Sabato Sr. (yes, "his" dad) plays her fiance Mario, the macho Italian fashion designer. Apparently, in the early 70s, fashion designers were a lot tougher than today and drove around in convertibles that were too small for their bodies.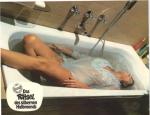 Adding to the cast of beauties are Gabrielle Georgelli who leaves us all to quickly and Marisa Mell of Danger: Diabolik fame. Poor Marisa gets taken out in a particularly gruesome drill sequence. But don't despair...she has a twin sister. Holy mistaken identity! Actually, this murder sequence seems a bit out of place in it's gore factor. Many of the other killings are tame in comparison, some even taking place off camera.
The police, in classic form, show complete ineptitude, leaving the crime-solving to rank amateurs. But they do succeed in prematurely closing the case and pronouncing everything safe, at least two times during the film, only to have the "real" killer pop up again. Oddly enough, the best police-work is done by our hero Mario who uses his design skills to create a really horrible sketch of the murderer that is somehow effective.
A giallo is nothing without creepy music and the soundtrack by Riz Ortalani delivers but is, at times, a little too bouncy and playful. This throws off the creepy factor but is good for a few laughs.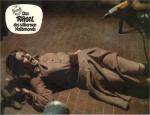 Overall a competent outing by Lenzi and the director shares some of his thoughts on the DVD extras. Apparently, he based Seven Blood-Stained Orchids on a story by author Cornell Woolrich who also wrote Rear Window. He also takes credit for establishing some thriller movie conventions such as the long take of a motionless victim underwater staring at the camera. Seven Blood-Stained Orchids is a great introduction to the giallo and a pretty good time.
Click here to see my collection of images from the film.
Available on DVD from Amazon: